November 23, 2020
Posted by:

AMIP Team

Category:

Press Releases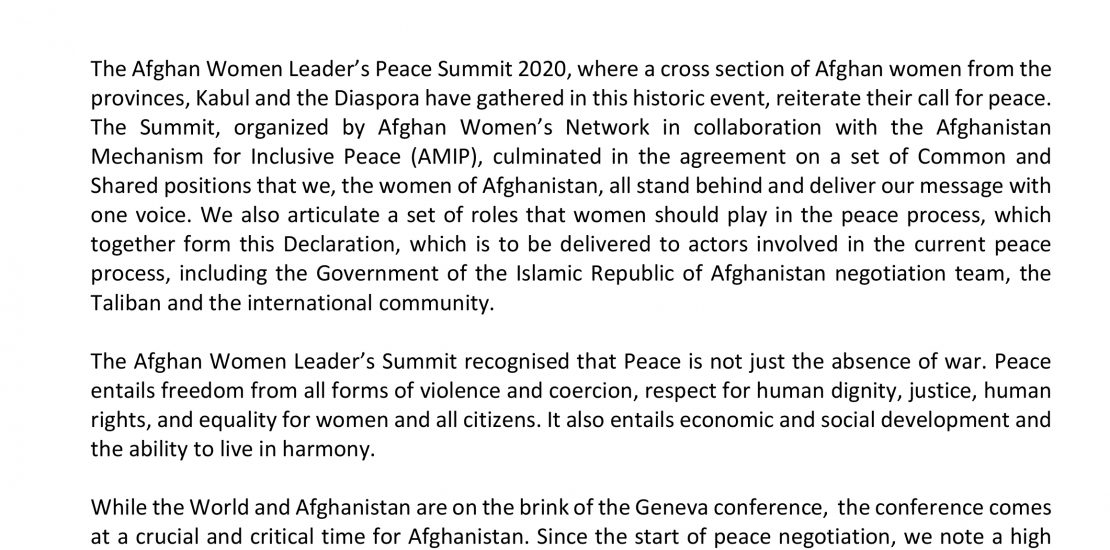 The Afghan Women Leader's Peace Summit 2020, where a cross section of Afghan women from the provinces, Kabul and the Diaspora have gathered in this historic event, reiterate their call for peace. The Summit, organized by Afghan Women's Network in collaboration with the Afghanistan Mechanism for Inclusive Peace (AMIP), culminated in the agreement on a set of Common and Shared positions that we, the women of Afghanistan, all stand behind and deliver our message with one voice. We also articulate a set of roles that women should play in the peace process, which together form this Declaration, which is to be delivered to actors involved in the current peace process, including the Government of the Islamic Republic of Afghanistan negotiation team, the Taliban and the international community.
The Afghan Women Leader's Summit recognised that Peace is not just the absence of war. Peace entails freedom from all forms of violence and coercion, respect for human dignity, justice, human rights, and equality for women and all citizens. It also entails economic and social development and the ability to live in harmony.
While the World and Afghanistan are on the brink of the Geneva conference, the conference comes at a crucial and critical time for Afghanistan. Since the start of peace negotiation, we note a high rise in the number of civilian casualties including women and children, according to the recent UNAMA report. Women activists, civil society and journalists are subjected to targeted killing and the number of internally displaced people and asylum seekers is on rise. While we want negotiations to succeed in bringing an end to violence, as women we are deeply concerned that Women's rights do not become the price to be paid for peace.
Afghanistan is THE conflict in which the centrality of women cannot be denied or overlooked. People from around the world will be watching to see if national, regional and international actors supporting the Afghan peace talks live up to their international commitments on the women, peace and security agenda; and to the preservation of democracy, human rights and freedom of expression as an outcome of the peace process and in line with their commitments to international conventions they are signatories to.
Below are a set of positions agreed upon as priorities for the Peace Process and peace in Afghanistan thereafter:
Ceasefire
Recognising that theincrease in violence and targeted civilian casualties in Afghanistan is unacceptable; that people on all sides suffer from suicide attacks and IEDs, aerial attacks and night raids;; that a safer and secure environment is needed for the Afghan people to rebuilt lives and economies; and that trust and confidence in the viability of peace talks must be built with the Afghan people.
Furthermore, the Afghan Women Leader's Peace Summit declares that parties to peace negotiations should not negotiate peace and commit violent offensives at the same time. This duality only serves to undermine the peace process and lower the level of confidence people have in the peace process. A ceasefire should not be the goal of the peace talks, but instead, a ceasefire should pave the way for the peace process.
We call for:
The negotiating parties to make a firm public commitment to stop using violence as a strategy to influence negotiations.
An immediate, viable and stable ceasefire.
A ceasefire monitoring and verification mechanism should be established, and involve women, victims and civil society groups in monitoring.
Regional and international states, especially those with greatest influence to exert utmost pressure to end violence and support the Afghan people especially women's call for an immediate ceasefire.
International guarantees on the ceasefire and a role for civil society to monitor the ceasefire.
Victims
Recognising that many Afghan families and communities have lost loved ones; that most victims are civilians and that civilians continue to be disproportionately affected by ongoing violence; that women and children feature highly among the casualties; that security forces and their families have suffered enormous losses, that people in all of Afghanistan have suffered.
The Afghan Women Leader's Peace Summit recognised that support should be provided to victims and survivors; that we must ensure that grievances and revenge do not continue, that the peace process should not exclude victims' and survivors voices.
There should be meaningful engagement with victims, survivors and their networks and victims' voices must be heard in the peace talks and in all other forums of the peace process.
Negotiating parties should meet with victims to listen to their grievances and demands and reflect these in the negotiations, ensuring that all parties to the negotiations ( the government and the Taliban) are made aware of victims' issues.
Victims must be involved in the relief and recovery mechanisms and be able to determine and shape the services and support they need.
Justice
Recognising that most of the 5,000 Taliban prisoners who were released were accused of war crimes and serious human rights violations; that this did not deliver a ceasefire or reduce the violence in reciprocal confidence building; that it also served to legitimize the Taliban and emboldened them to intensify their attacks on civilians.
The Government must establish a culture that respects the rule of law and that does not promote or condone impunity and undermine transitional justice and recovery from our violent history.
The negotiating parties must agree upon transitional justice measures to reconcile and build society as part of any peace agreement, such as a Truth Commission and reparations mechanism